Multiple designs where required for this LAPG "Flash Deals" Email Marketing Project. The concept was to first educate the customers about the LAPG Timed Flash Deals and entice them to click on the email to view all the discounted items.

Each design was created in illustrator, Photoshop, coded in Dreamweaver  and created for an email blast sent out through the Whatcounts email marketing platform.
Some of these designs like the one below where created to not only promote the Flash Deals but also to notify them via the illustrations that the discounted items where Christmas related as well. The overall email campaign ascetic is still being utilized when new flash deals are appropriate sales.

This next design is a great example of how a full email blast looked in the customers email inbox. This design also exhibits the "Flash Deals" theme being pulled through the full advertisement layout with the yellow colors being displayed on each product.


The Flash Deals emails have a continuous connection of this yellow Lighting bolt circle logo mark designed to bring branding to the section of the website used for the sales. The circle was used in two ways one alone and the other as a shop now button used to entice customers to click and visit the website.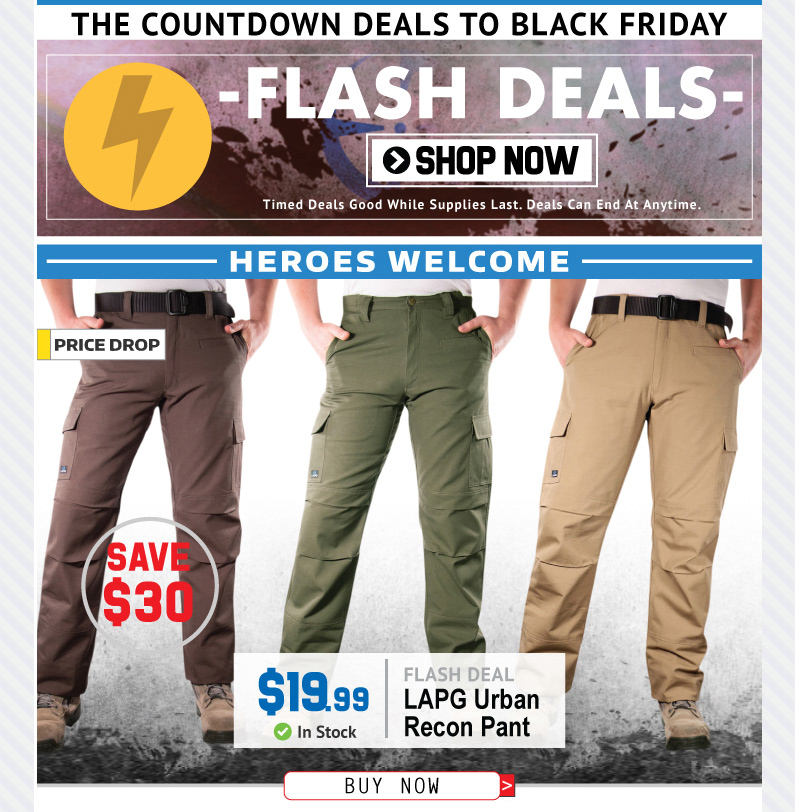 Below are a few examples of Web banners designed for the website landing pages for the email blast content as well as the Top banners shown on each page of the LAPG website while the sale was on going. Each design was created for the responsive design of the website meaning you will see each design in three sizing options one for Mobile, Tablets, and Desktop browsing.